The headquarters of Francisco Pérez Rodríguez S.A. are located strategically in the province of Almería, specifically in Viator, very close to the junction of A-92 and the A-7 (Autovía del Mediterráneo).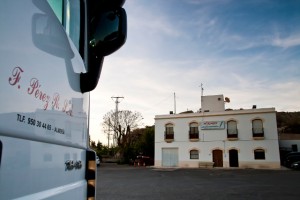 You can get in contact with us at the following telephone numbers and e-mail addresses or by visiting and talking to us directly. You can be assured that we will be there for
any requirements you have.
Company Name:
Francisco Pérez Rodríguez, S.A.
Address:
Ctra. Viator-Alquian Km 1 04240 Viator (Almería) ESPAÑA
Telephone:
0034 950 30 44 65
Telephone number – Traffic department:
0034 950 30 44 75
FAX:
0034 950 30 45 23
Sales and Traffic department:
salva.perez@transporteseljunza.com
Administration:
rosa.salvador@transporteseljunza.com